The Asian country's natural cosmetics are primed to scoop up growing market share in the Middle East, Central Asia and Southeast Asia.
Sales of K-beauty products, the umbrella term for South Korean skincare and cosmetic products, reached record highs in 2021 with strong sales in Malaysia, Indonesia, Kazakhstan and the United Arab Emirates (UAE).
South Korean cosmetics continue to be globally popular with exports last year reaching $9.19 billion and exports to the 54 Organisation of Islamic Council (OIC) countries growing 28% to $395 million, also a new record.
"Despite the COVID-19 situation, K-Beauty products are hot items around the world and in OIC countries," James Noh, President of the Korea Institute of Halal Industry (KIHI), told Salaam Gateway.
K-beauty has proven popular worldwide, partly driven by exports of Korean culture – known as the Korean-wave – and music known as K-pop. A further driver has been South Korean cosmetics companies' use of natural ingredients, effectively tapping into the growing demand for natural/herbal and cruelty-free beauty products. It also fits into the concept of halal cosmetics, not containing any forbidden ingredients such as porcine or alcohol.
South Korean cosmetics manufacturers used these trends to bolster exports, initially to the Asian market, and then expanded into Europe, North America and the Middle East. China accounts for roughly a third of cosmetics exports.
While research houses differ on the country's exact placing in the rankings, the demand has propelled South Korea into the top 10 global exporters over the past decade. International Trade Centre data reflects the country as the third-largest exporter, while Statista places it at number seven.
KIHI figures indicate exports to OIC countries grew 14% in 2020 to $308 million and 28% in 2021 to $395 million, cumulatively reflecting "a big increase" of 42% in two years. However, Noh says the OIC only accounts for 4.3% of total cosmetics exports.
"There is still a long way to go, but I believe market share to OIC countries will increase further," he added.
By region, the biggest market is Southeast Asia at 45% or $179 million. Malaysia is the biggest importer at $107 million followed by Indonesia ($71 million). The two countries are also the main export markets for South Korean halal-certified food and pharmaceuticals.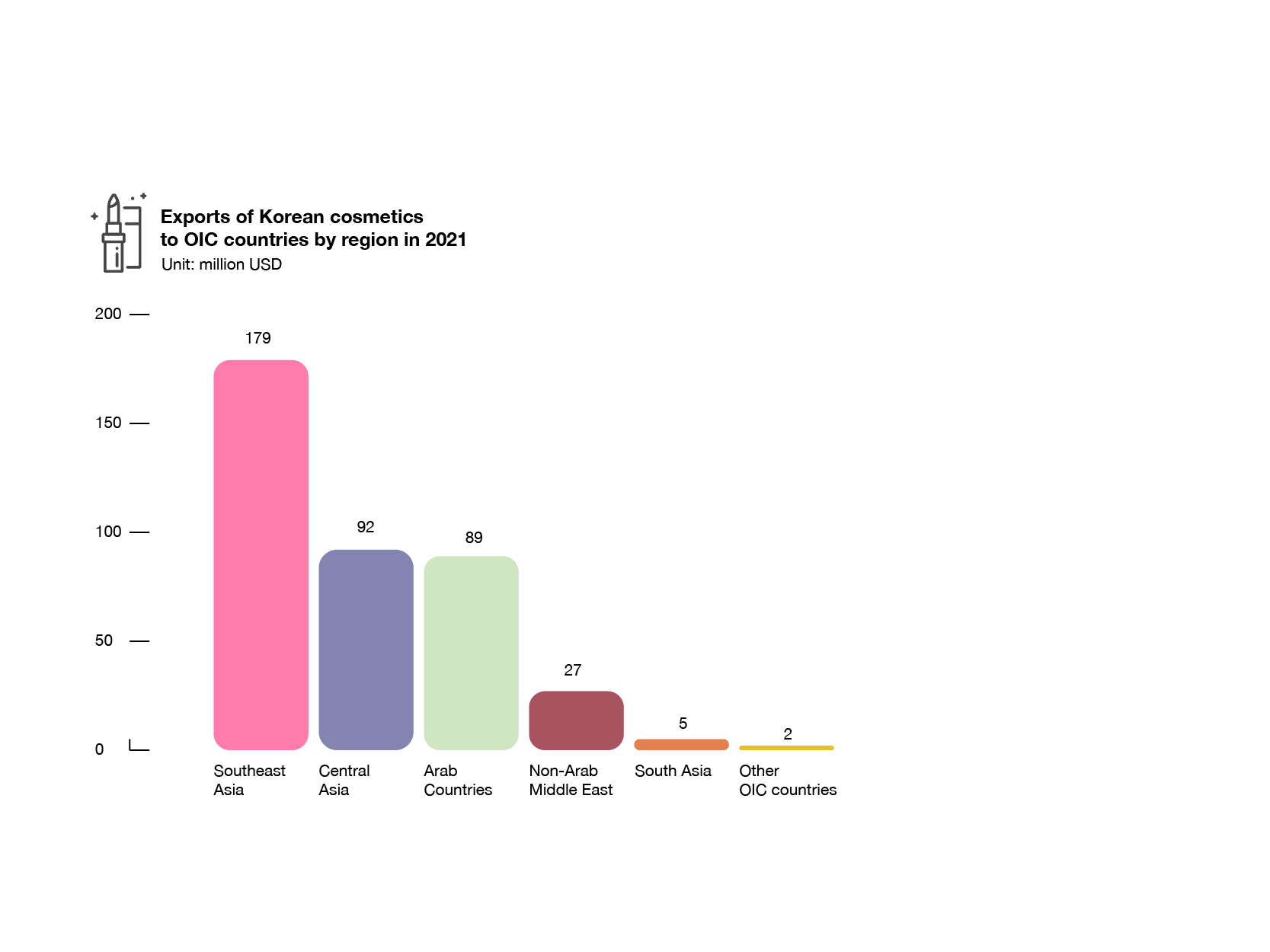 South Korean cosmetics brands and manufacturers have sought halal certification to bolster appeal in Muslim-majority markets. Indonesia, the second biggest export market, has put in place obligatory halal certification requirements through a phased-in approach over the coming years.
Noh said halal certification of cosmetics companies has been stable recently with the focus now on certifying food products. However, he has seen a growing concern from cosmetics companies to secure halal certification.
"The biggest reason for this is the mandatory halal certification in Indonesia by 2026, so more companies are aware of that issue. I think as time goes by, maybe this and next year, more certifications will happen," he said.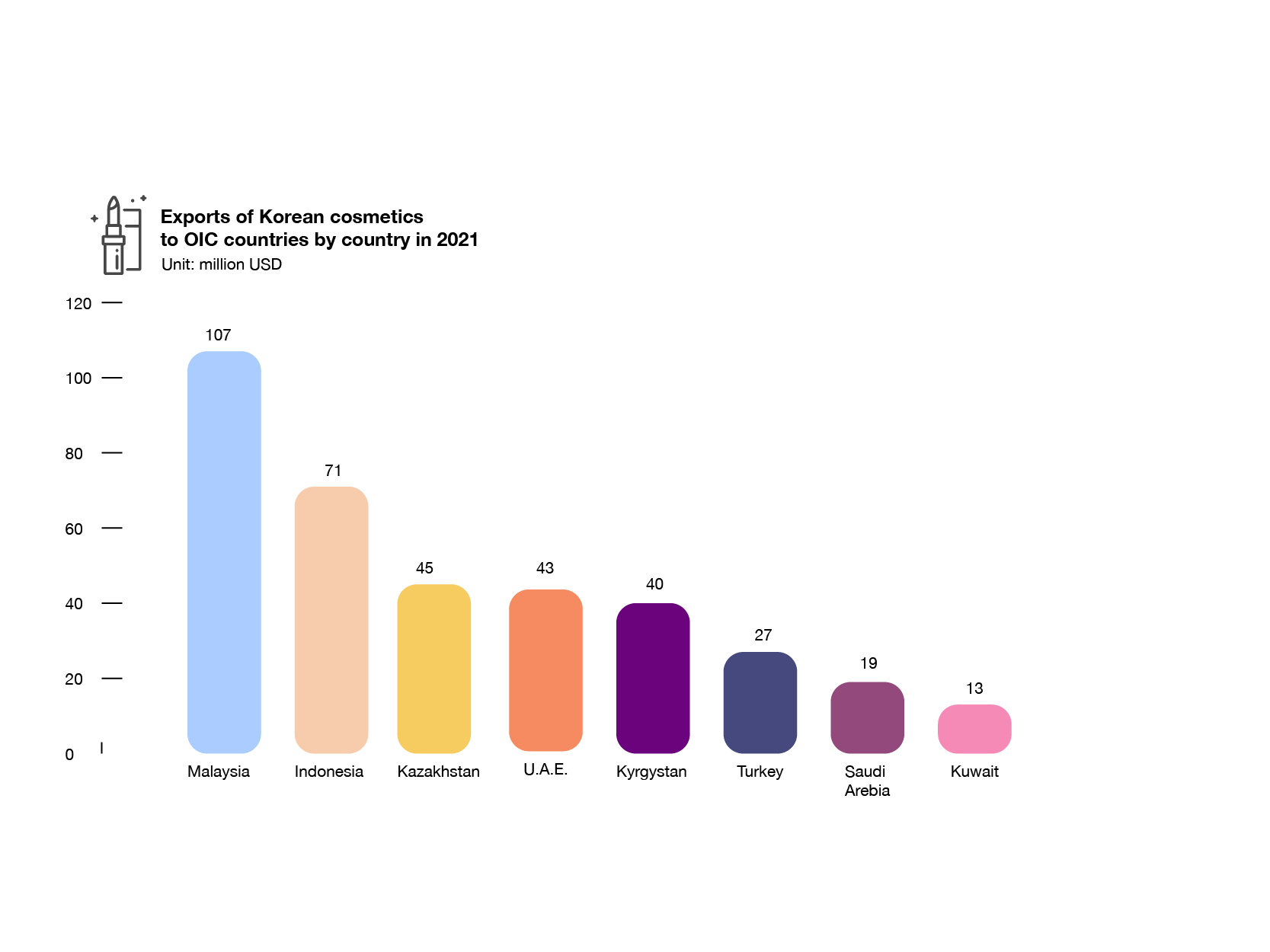 South Korean cosmetics exporters have carved out a strong market in Central Asia, accounting for 23% or $92 million of total sales to the OIC. Kazakhstan is a particularly strong market at $45 million and Kyrgyzstan at $20 million.
The Arab Middle East has been another burgeoning market, nearly equalling Central Asia at 23% or $89 million in 2021. In 2020 imports of Korean cosmetics to the UAE and Saudi Arabia grew 62.7% and 90.1% respectively from 2019. In 2021 the UAE imported $43 million, Saudi Arabia $19 million, and Kuwait $13 million.
Non-Arab Middle Eastern countries Iran and Turkey account for 7% of exports with Turkey importing $27 million last year.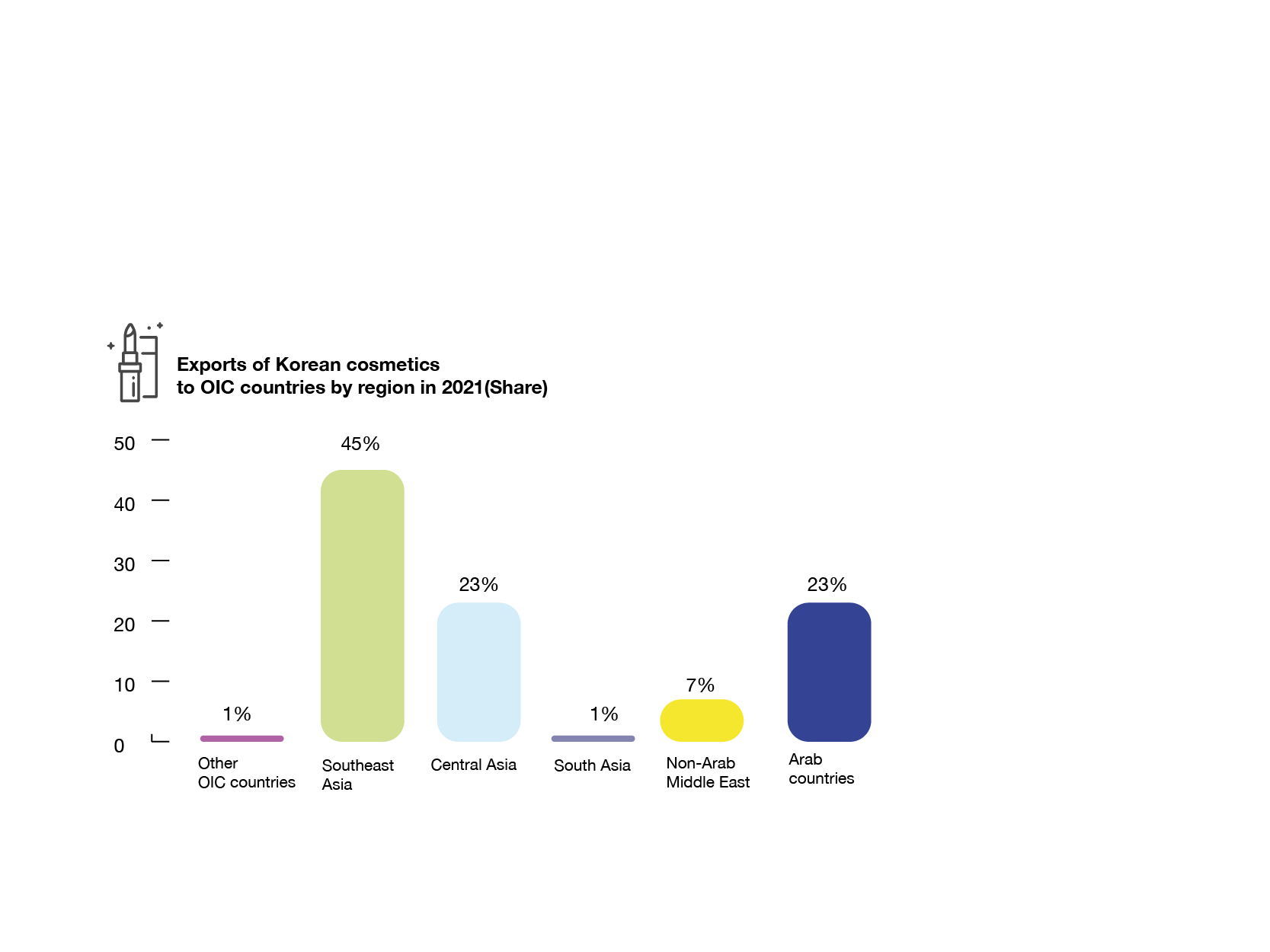 Noh said over the past few years Dubai has been a major driver of South Korean cosmetics growth in the Middle East with the Emirate operating as a significant hub for both sales and re-exports. Sales to Saudi Arabia decreased comparatively last year, but overall sales to the region increased in value.
"The biggest market is Southeast Asia, but in the future, the market share of the Middle East will be higher," said Noh.
Domestic sales to Muslims are also "quite substantial" with some 200,000 present in South Korea, primarily expatriate workers and students. A KIHI survey, conducted in December 2021 and using a 120-strong sample size with an average age of 31.7 years to identify Muslim consumption habits, reflected Muslim spending on beauty products in South Korea at some $48 million annually.
© SalaamGateway.com 2022. All Rights Reserved
link