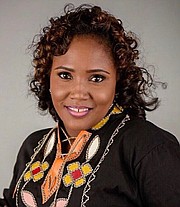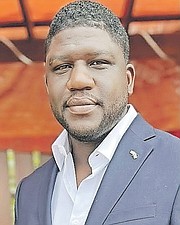 By FELICITY DARVILLE
AVERY Lightbourne has always been into rocks. A native of Rock Sound and Green Castle, Eleuthera, Avery knew how to skip flat beach stones over a calm sea on a bright summer day. He knew how to negotiate jagged, limestone rocks to jump in the blue hole with his cousins and friends. They would ramble the bush for seagrapes, cocoa plums and pigeon plums. He fondly recalls those days, enamored with the freedom of childhood as we spoke about his company, ART Heavy Equipment & Development (ART). As an island boy, he learned how to be resourceful and how to respect the land. As a young entrepreneur today, he is continuing to learn how to be innovative and resourceful, finding solutions that help to advance life in The Bahamas.
When Avery learned about basalt rock, a natural, igneous, volcanic rock with lots of benefits in the construction industry, he was intrigued. The fibers of basalt are used to create Basaflex, an innovative, corrosion proof composite reinforcement that is stronger than steel. It's a lightweight, eco-friendly product that Avery got excited about. The Bahamas is an archipelago surrounded by water. Corrosion is a major issue throughout the islands. These issues are exacerbated by the threat of hurricanes. Avery says that Basaflex offers a solution that would cut down costs in construction and maintenance, and help buildings in The Bahamas stand the test of climate change and time.
ART has the sole distributorship for Basaflex, a product manufactured by Basanite Industries, LLC, based in Florida. The Ministry of Works has approved Basalt Fiber Reinforced Polymer (BFRP) rebar, including Basaflex, to be utilised in place of conventional steel rebar for reinforcement in concrete structures throughout the Bahamas. ART will act as the regional stocking distributor of Basanite's composite products for the construction industry in the Bahamas.
It's a big step for Avery, but one which he has been preparing for all his life. His good Eleuthera upbringing availed him much, under the care of his father, Jack Lightbourne, and his mother, Stephanie Lightbourne (nee Armbrister, daughter of Constable Jephta Armbrister of Cat Island). He also had the loving care of his paternal grandparents on Eleuthera – Harbourt Lightbourne and Maria Lightbourne (nee Whylly). He spent many days on the farm with them, picking tomatoes and watermelon, and seeing what love and respect for the land and each other looked like.
"When I was a little boy and we would go crabbing," Avery recalls, "my grandmother would always tell us 'good job!' even if we only caught one crab- I always remember that."
Avery attended Green Castle Primary, then Rock Sound Primary in Eleuthera. He loved the days when his Aunt Porcia would park her entire jeep on the Island Link, and all the cousins would spend great summers together. He graduated from Preston H Albury High in 1995, and by 1997, he moved to Nassau. Avery's brother, Zane, went to college to become an educator, and is now the Minister of State for Education. Avery eventually enrolled in the Police College, and served six years as an officer of the Royal Bahamas Police Force.
Filled with a passion for enterprise, Avery introduced business ideas, many of which are successful today, including his security company, built on the foundation of his official training. But he has worn many other hats. His mother signed him up for the police force. But before then, Avery worked as a bartender.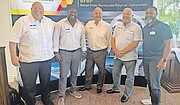 "Bartending built relationships that were lasting ones," he said.
"They taught me about the world before the internet."
No matter where life took him, Avery was always involved in business. He is inspired to continue finding real world solutions that make life easier. At one point, Avery came across an opportunity to sell Sasha cosmetics, a premier line of makeup, which became a hit with his customers.
Avery had a great product and people were buying it. He would hold make-up parties for professional women, especially stewardesses, who were required to hold a certain standard of beauty. His Lancome eye and lip pencils were especially the rage. Avery found that it was impossible to keep hiring a makeup artist for every makeup party he would have. So, he got training and was certified by a beauty queen, Miss Trinidad, and he came back home equipped to wow his clients.
He was such a hit that he had made a name for himself. When Patti Labelle performed in The Bahamas, her makeup artist called for Avery to work with her behind the scenes.
Eventually, after Avery left the Police Force in 2007, he found a niche in private investigation. Once again, his connections were continuing to develop, and he remained open to finding solutions for life. He is about to announce another innovative product in the coming months.
For now, he's educating architects, engineers and contractors on the wonders of Basaflex. With the Bahamian Building Code approval and the Distributor Agreement in place, ART is now able to offer its customers Basanite's full line of corrosion-proof products for concrete reinforcement. ART's primary customer base is located in the Bahamas and the Caribbean, where corrosion of steel from saltwater exposure is a major problem. Basanite's green, corrosion-proof, basalt fiber products offer a compelling solution. Basalt products are completely non-toxic and environmentally friendly. They are stronger, yet significantly lighter than steel. They cost less, and are completely rust-proof.
"We are very excited to bring Basanite's products to the Bahamas," said Fred Tingberg, Basanite's CTO.
"Our environmentally friendly, high-performance basalt fiber composite products will help the Government and builders in the Bahamas solve the problems associated with traditional steel construction products (such as infrastructure corrosion) in a manner that helps preserve the environment. We look forward to building a long-lasting relationship with ART in the Bahamas."
Avery says his love of country and desire to succeed will continue to motivate him on his entrepreneurial path.
"The Bahamas is a young country, it's still developing," Avery said.
"As young entrepreneurs, when we look for these innovative technologies, it shouldn't be difficult to implement it. We don't have a huge market in our country, but there are many young entrepreneurs out there, like myself, looking for solutions to make our lives better."
Elated about the backing of the Government in his latest product, Avery says the next step is for Government to consider using the products in its own construction processes, giving a thrust to its movement towards climate change mitigation.
"We are all one family.; if you have the right message and it ties in to where we try to go as a country, I think its a beautiful thing," he said.
"The more we find technology to help us to be able to feed our families and keep up with the good trends of the world, then we have a huge advantage of enhancing the most beautiful country on planet Earth. This is our way of life. We can leave an indelible mark on the young ones, to protect our country and help it to prosper for years to come."
Get in contact with Avery at [email protected].
link