Herbalife Nutrition Ltd. (NYSE:HLF), which released third-quarter results on October 30, has now reported three quarters of rebounding U.S. sales. This follows a collapse in U.S. sales last year as Herbalife and its distributors were forced to implement conditions of a Federal Trade Commission (FTC) Consent Order restricting commissions on purchases and banning deceptive promotion of the business opportunity.
In the first quarter of 2018, North American sales jumped $40 million year-over-year to $231 million; in the second quarter, sales rose $30 million to $262 million; and in the third quarter, sales jumped $48 million to $309 million.
Not only is the U.S. market no longer a drag on Herbalife's business, but Herbalife's CEO Rich Goudis noted during the company's August 1 conference call that it is now setting an example for the rest of the world: "… our distributor leaders around the world have taken note of the growth in the U.S., and we are now exploring with them which tools and procedures they might want to be rolled out in their markets."
Management talked about some of those "tools and procedures" during a day of presentations to investors in New York on October 31, but it didn't mention the company's new "Accumulate and Allocate" procedure. This procedure is supercharging compensation to the company's most aggressive U.S. recruiters, and no one appears to be a bigger beneficiary of this procedure than the company's newest Chairman's Club members.
Herbalife's Most Successful Distributors
On June 11, Goudis, took to Instagram to announce: "I'm very proud to introduce our newest Chairman's Club Jorge and Disney de la Concepcion. Please join me in congratulating @fitcouple (the name the couple go by on Instagram) and the first distributors to ever achieve 140K."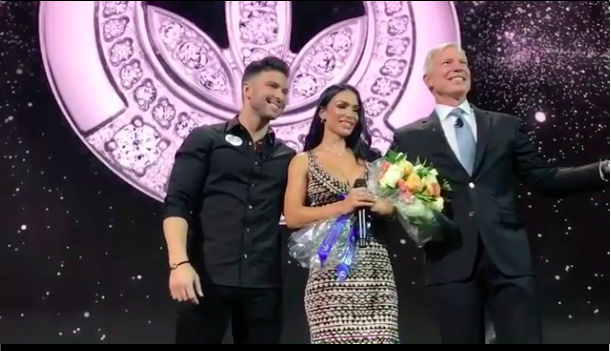 Credit: @fitcouple Instagram account
It's hard to overstate this accomplishment. Top Herbalife distributors, who have spent decades with the company, boast only 60,000 Royalty points. Before Fit Couple, Herbalife's marketing plan didn't even contemplate Royalty-point achievements of more than 90,000 points.
The "140k" designation indicates that Fit Couple has created a group generating 140,000 Royalty Override points for them every month. That translates into at least 2.8 million volume points or about $3 million in Herbalife sales every month. And, that's just a portion of the volume generated by their organization; Royalty points are tabulated on only three levels of purchases below the distributor – not on his or her entire organization.
The pair has supposedly revolutionized Herbalife's business by selling and recruiting over Instagram. It's not much of a stretch to say that Fit Couple and their growing organization based in Miami can take significant credit for turning around Herbalife business after a disastrous 2017.
Record Number of U.S. President's Team Members
To be admitted to the Chairman's Club, a distributor must have five President's Team members in his or her first line; those individuals must have 10,000 Royalty Override points for three months running. Fit Couple are surrounded by high earning distributors – including a number of family members and friends. Earlier this year, Fit Couple was recognized as the top Royalty point earners globally. Jorge's parents (Jorge Sr. and Mayte) were the number two earners globally. Fit Couple's business partners, Alan Rodriquez and Fabiola Barinas, took the number three spot. That's an extraordinary concentration of volume.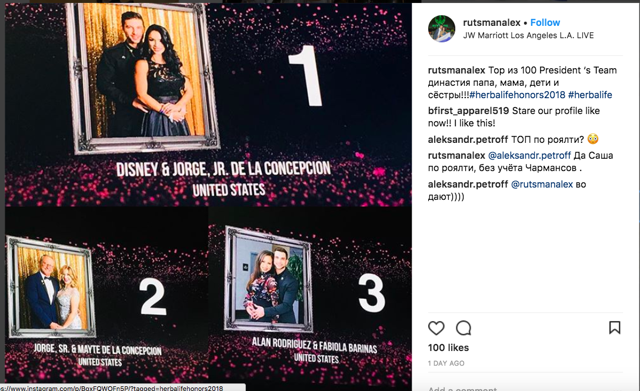 Credit: @fitcouple Instagram account
Disney's mom hit Millionaire Team in January and advanced to President's Team by April. Such advancement often takes years. She did it in the minimum amount of time needed, hitting the qualification level for three months running – in a process that distributors refer to as first cut, second cut, and final cut.
Jorge's parents hit President's Team and recently achieved 80K status, a milestone that would make the most successful distributors jealous pre-FTC Consent Order. The couple doesn't appear to even try to recruit people using online coaching over their Instagram account, which is filled mainly with photos of Herbalife vacations and events and outings with the grandchildren. Over the last two years, there are shots of the couple advancing rapidly through the marketing plan: 30K, 40K, 50K, 60K.
Advancement in Fit Couple's organization has always been abnormally fast but post-FTC Order, it's hard to even keep up: Alan Rodriquez and Fabiola Barinas were meeting multiple qualification levels in a single month. In February, they announced their first cut of 60K, though they were also still working to complete their cuts of the 50K level. Later in February, they somehow jumped to the second cut of 60K. In March they were officially 50K. but they're also boasting of hitting 80K in volume.
Each 10K advancement represents around 200,000 in additional volume points in a distributor's first three levels.
During the company's August 1 call, Herbalife's CEO Rich Goudis mentioned the "momentum" at the top, including a surge in the creation of new President's Team members, who can earn hundreds of thousands of dollars a year:
"Another performance metric that reflects the health and momentum of our business, although not financial, is the opportunity for people to be successful within our distributor recognition ecosystem. Globally, excluding China, we had the highest number of new qualifiers for President's Team since Q1 of 2013. In fact, we had more new members achieve the President's team level in Q2 than the past 6 quarters combined, really impressive given that this is a significant leadership level within our organization. Importantly, we saw the same trends in the U.S. with the highest number of new President's Team members in our 38-year history."
The last time Herbalife created top earners at this pace, back in the first quarter of 2013, Venezuelan distributors were using Herbalife products as part of an undisclosed scheme to circumvent foreign exchange controls and move money out of Venezuela. Thanks to this arbitrage, distributors could make money without selling products, and this created a crowd of Chairman's Club and President's Team members, among them Alex Fernandez, who the de la Concepcions frequently describe on Instagram as their mentor. I wrote a report on the topic, which was published as a Seeking Alpha article.
Documenting Life at the Top
Scroll through Fit Couple's Instagram account, and you quickly learn their story: Jorge, a former bartender, and Disney, a former Hooter's waitress, were struggling when his parents approached them about signing up as Herbalife distributors. Before Herbalife, the high school sweethearts, who immigrated from Cuba as children, worked long hours, spent little time together and worried they'd have no time to raise children. After discovering Herbalife, about six years ago, the couple focused on their personal fitness and a steadily growing income followed.
Now, one can see that the highly photogenic couple divides time between luxury homes in Miami and Spain when they're not traveling the world – first class. Their days are spent at the gym, lounging around the pool, eating out, haute couture shopping and playing with the kids. The couple's two young children play a starring role in their Instagram account and are used to send a powerful message: Sign up with Herbalife, fully commit to the business, and you too will make enough money with Herbalife to quit your job and stay home to raise your children.
The de la Concepcions were aspiring actors before they joined Herbalife, and many of those they've recruited into the business are highly photogenic people they met in an acting class in Miami, according to their Instagram posts. Group members would appear, at times, to have professional photographers helping them document aspects of their very staged lives on social media, such as this business meeting held in the pool: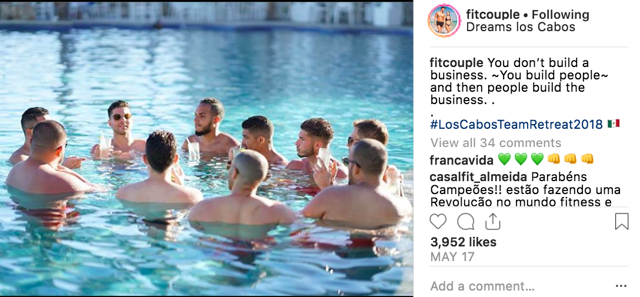 Credit: @fitcouple Instagram account
"Our job is simple – teach others to reach success in this business! The ones that take it seriously can change her/his life forever," the couple posted recently. At the bottom of their posts, they often include boilerplate language, mentioning they're "Top 1%" and providing a link to Herbalife's Statement of Average Gross Compensation, where anyone bothering to check might be able to untangle the company's extremely convoluted disclosure and see that the vast majority of distributors earn nothing.
Appears to be Violating the FTC Order
The FTC Consent Order prohibits anyone offering the Herbalife business opportunity from suggesting that "participants will or are likely to earn substantial income (page 14)." Distributors also are banned from representing that participation in the Herbalife business allows participants to: "'quit your job,' 'be set for life,' 'earn millions of dollars,' 'make more money than they ever have imagined or thought possible,' 'realize unlimited income,' or any substantially similar Representations (page 15)."
But that's the overriding message of the de la Concepcion's Instagram account and the accounts of their close associates, who go by names such as @epicfitcouple, @unstoppablefitcouple, and @jmartelfit.
Fit Couple posted this video after being in the Herbalife business for just one year to show how they had been able to move from a dangerous neighborhood in Miami to an oceanfront, luxury apartment in Sunny Isles. In a more recent example, the couple posted this shot in front of their villa in Spain, explaining that people could use their success as inspiration for building a business of any size they desired.
Members of their downline organization have followed their example: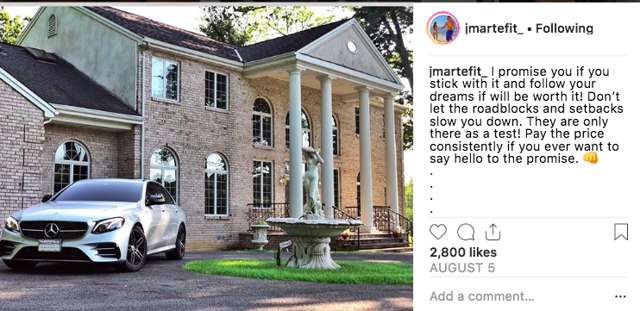 To be clear, the FTC specifically bans representations of lavish lifestyles, such as "opulent mansions, private helicopters, private jets, yachts, exotic automobiles, or any substantially similar representations (page 15)." Lavish lifestyles are on display every day on the group's Instagram accounts.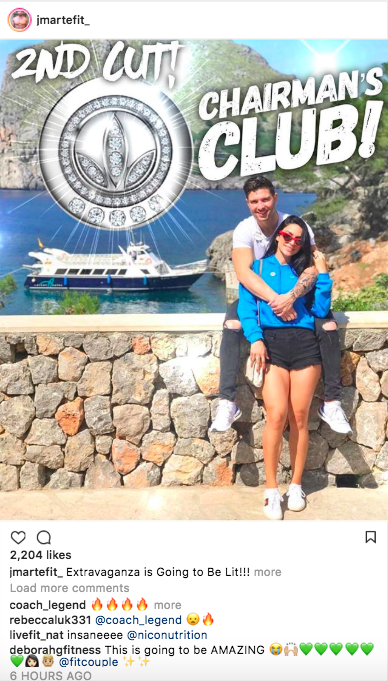 Credit: @fitcouple Instagram account
Accumulating Unrewardable Volume
Under the FTC Order, Herbalife must distinguish Rewardable from Non-Rewardable Volume (p. 5-6). Rewardable Volume is used to figure a distributor's earning percentage, discount level, marketing plan status and qualification for vacations and other perks; Non-Rewardable Volume is not.
Herbalife's Marketing Plan Addendum, which you can see here, explains what constitutes Rewardable Volume. The first category is Documented Volume and it includes:
Purchases by a distributor that are subsequently retailed to consumers with a retail receipt
Purchases by Preferred Members (individuals who signed up with Herbalife for the product discount but have no interest in the business opportunity)
Purchases by distributors outside the country. (Because the FTC Order doesn't apply to overseas sales, there's no need for distributors to provide a receipt for these sales, indicating that the products were retailed. So, this is "documented" volume that's not really documented.)
The second category of Rewardable Volume is Primary Personal Consumption or products distributors buy for their own personal consumption. The amount, however, must be reasonable (approximately $200 per month, the FTC determined) and must not total more than one-third of the distributor's Documented Volume.
Here's an example of how Rewardable Volume is limited on personal consumption under the Order. A distributor buys 50 volume points of products from Herbalife and subsequently sells 50 volume points to retail customers. The Preferred Members he's recruited buy an additional 100 volume points from the company. The distributor then purchases 200 points for personal consumption.
All 150 volume points of the retail sales and Preferred Member purchases count as Documented Volume and are classified as Primary Rewardable Volume. Only 50 volume points of the personal consumption, however, are considered Rewardable (one-third of 150) and are labeled Primary Rewardable Volume. The remaining 150 volume points get swept into a what Herbalife calls the "Accumulate Bucket."
Under the FTC Order, if Herbalife's overall U.S. net sales are 80% or more Primary Rewardable Volume, the company can relabel the Unrewardable Volume in the Accumulate Bucket as "Secondary Personal Volume" and pay commissions on it to distributors – just not to the original distributors and their uplines.
If this procedure is starting to make your head spin, you're not alone. Here's what a distributor sent me when I asked him about the allocation process:
"I am aware of it but I honestly don't understand how they decide to allocate it. From what I do understand in terms of people under me, if they make personal orders that are considered non-rewardable volume, as well as any volume ordered but not documented properly, they somehow group together and based on some formula of their own gets turned into additional royalty sent up the ladder to the nearest person meeting their required qualifications as far as documenting. Like all things in Herbalife, it's one of those at their discretion things that they never fully explain to those that don't need to know."
This reclassified volume can't be an insignificant amount of volume at Herbalife. Every time a distributor recruits a new distributor into the business, that person is encouraged to "Use, Wear, Talk" and "Be a Product of the Product," and that means purchasing products is the first step new distributors take when entering the business. At the same time, brand-new recruits lack retail customers and have yet to recruit Preferred Members, making it impossible to classify any of their personal consumption as Rewardable Volume.
As a result, their volume is reassigned to other distributors who have enough Primary Rewardable Volume to take on this Unrewardable/Secondary Rewardable Volume without having it cause their own Unrewardable Volume to exceed one-third of their Documented Volume. Got that?
Here's how the addendum to the Marketing Plan says it's done. First, for the purposes of calculating Wholesale Commissions, Secondary Rewardable Volume rolls up to the nearest upline distributor who has the capacity to be credited with additional Unrewardable Volume and that distributor takes the commission. To divvy up the Accumulated Volume for the purposes of replicating the Royalty Override Payment and the Production Bonus, the company pays "distributors in proportion to their rewardable organizational earn base, as a percentage of Herbalife's total primary rewardable volume in the U.S. and Puerto Rico." The document notes: "This process is subject to change and even elimination in certain circumstances."
So, the way to get a big share of the Accumulate bucket is to have lots of Documented Volume – retail sales, Preferred Member purchases and even, it appears, undocumented overseas sales. The beneficiaries of this redistribution are likely to be a fairly small group, as anyone eligible to receive volume from the bucket would first need 600 volume points of Documented Volume (retail sales, Preferred Member purchases, and international purchases) every month to cover an estimated 200 volume points in personal volume – before being eligible for their first volume point from the bucket.
Rewards on $100 Million Up for Grabs
How much volume is in the Accumulate bucket? In its 10-Q for the third quarter, Herbalife says its Rewardable Volume is above 80% of net sales (p. 74) – though it doesn't say by how much. Herbalife reported U.S. net sales of $494 million for the first six months of 2018. That means there could be Accumulated or Secondary Rewardable Volume of as much as $98 million of sales.
Good luck trying to find more information on the implementation of the Accumulate and Allocate process and how the spoils are divvied up. The company filed a document with the FTC describing its plans for implementation of the Order, which you would able to see here if it weren't 90% redacted. I and others have submitted Freedom of Information Act (FOIA) requests to obtain reports by a third-party overseeing Herbalife's compliance with the Order. My request was rejected. You can see the rejection letter here.
But regardless of exactly how this process is being orchestrated, it's impossible to see how the de la Concepcions qualify for reallocated volume given their deceptive marketing techniques over Instagram.
Two weeks ago, I emailed questions to Herbalife regarding the A&A policy and asked whether the company believes Fit Couple is in compliance with the Order's ban on deceptive promotion of the business opportunity. My questions were not acknowledged. A text to Fit Couple was acknowledged, but once I mentioned my interest in writing a report, communication ceased.
Herbalife's Victory over the FTC
Unfortunately, when the FTC set out to change Herbalife's business, the agency allowed itself to be dragged into the quagmire of Herbalife's overly complex compensation plan. For years leading up to the settlement, Herbalife's top distributors had the opportunity to plan how they might use the company's negotiations with the government to increase their take, to redirect rivers, to be compensated for the additional risk of all these years of scrutiny.
Even after five years of researching Herbalife and its compensation plan – with its complexity, its gaps in available information, and its innate deviousness – I can't claim a full understanding of how it works. With the addition of the A&A procedure, I think they found yet another way to push volume to the top of the marketing plan pyramid and away from the rank-and-file. It's how already inexplicably huge volume in Miami becomes off-the-charts volume.
It also appears to me that under the cover of compliance-related changes, the company has implemented a quid pro quo with its top distributors: In exchange for getting Herbalife's Documented Volume above 80%, those providing the Documented Volume get supersized compensation. This gives them even more reason to act in ways that may push or violate the boundaries.
In his tweet congratulating Fit Couple, CEO Rich Goudis noted: "Their success illustrates our belief that there was never been a better time to join Herbalife Nutrition."
It also illustrates that post-FTC crackdown, distributors still market Herbalife's business as a path to financial freedom, even as the vast majority of distributors continue to receive nothing for their work. In fact, under Herbalife's new Accumulate and Allocate policy, it appears to me that it's never been more profitable to be at the top of the Herbalife pyramid and less profitable to be at the bottom. The de la Concepcion's advancement to Chairman's Club also reminds us that relatives and friends of top earners can earn receive hundreds of thousands of dollars in commissions with no obvious business advantage. It underscores how the methods behind Herbalife's most successful distributors' businesses and Herbalife's methods for rewarding those distributors are often left unexplained to investors and struggling distributors.
But, one way or the other, Rich Goudis is right – Chairman's Club members Jorge and Disney de la Concepcion represent Herbalife's triumph over the FTC Order.

link