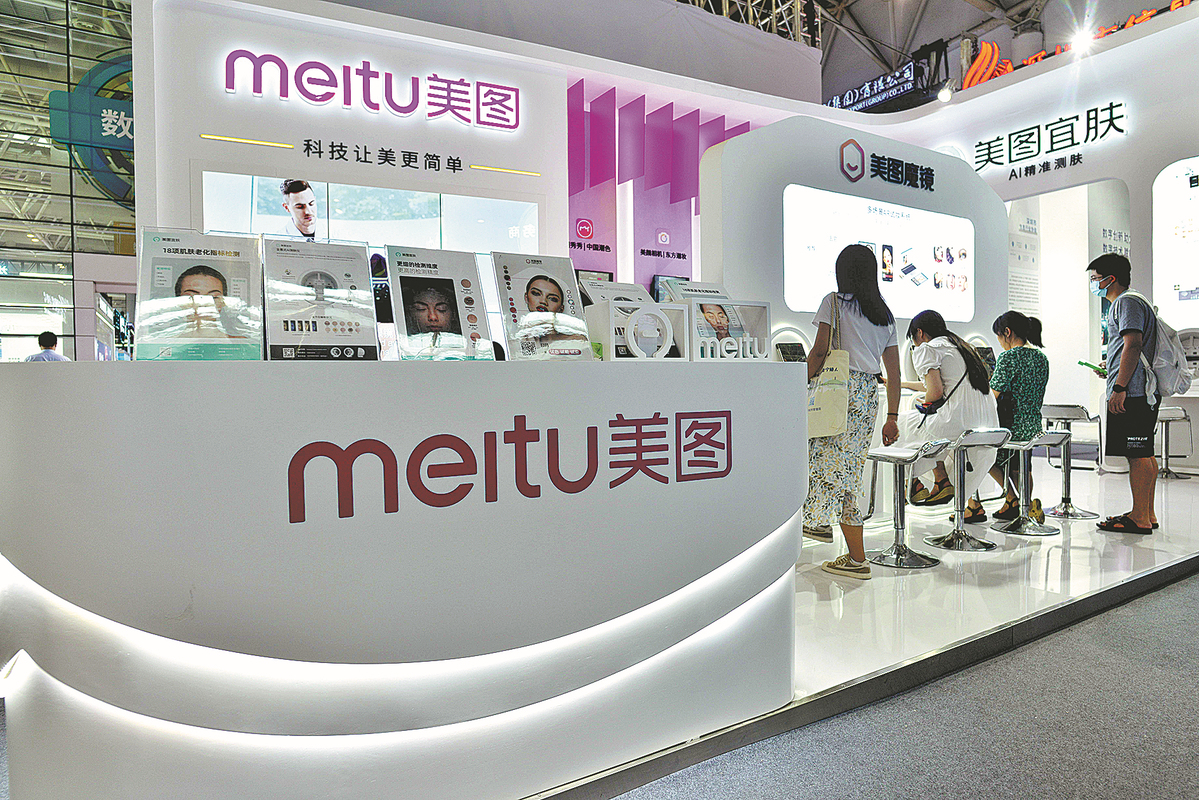 Selfie application company Meitu Inc is banking on the fast-growing paid subscription business and making a foray into the commercial photography, professional design and cosmetics segments as part of the company's broader push to diversify its monetization channels.
Wu Xinhong, founder and CEO of Meitu, said the membership paid subscription service based on its core technological capacities in computer vision and image processing has surpassed the online advertising business for the first time and become Meitu's largest revenue contributor.
The company is continuously updating product features to satisfy users' needs in beatifying and editing images and videos, thus driving a steady increase in VIP users, Wu said, adding the apps had more than 5 million active paying subscribers as of June.
In the first half, revenue from the VIP subscription business increased 61.4 percent year-on-year to 339.2 million yuan ($47.3 million). Revenue from SaaS, or software as a service, and related business amounted to 226.6 million yuan, surging more than 15 times from 13.8 million yuan in the first half of 2021.
Wu said the company is eyeing new growth points from the SaaS business by launching MeituEve, which provides artificial intelligence-powered skin analysis and related SaaS solutions for skincare brands, aesthetic medical clinics and beauty salons.
So far, MeituEve has been applied in 2,826 brick-and-mortar stores around the world and has reached strategic cooperation with many well-known brands such as Dior and Shiseido.
With technological advances in cloud computing and 5G, the SaaS industry has entered the fast lane. According to market consultancy iiMedia Research, the revenue of China's SaaS sector stood at 32.26 billion yuan in 2021 and the figure is expected to reach 55.51 billion yuan in 2023.
In addition, Meitu has acquired a 63.35 percent share in Meidd, an internet platform offering enterprise resource planning (ERP) services and supply chain management for cosmetic retailers to bolster the digital transformation of enterprises in the cosmetics industry. Meidd has served over 10,000 cosmetics stores in over 250 cities across the nation as of June.
"We are stepping up efforts to expand our footprint in overseas markets, with a key focus on the United States, Europe, Japan, South Korea and Southeast Asia. The number of overseas monthly active users has reached nearly 70 million," Wu said.
Wu noted there is huge growth potential in overseas markets and the company pays attention to the needs of users in countries and regions participating in the Belt and Road Initiative. Currently, there are more than 10 million users each in 21 foreign countries, such as Indonesia, Thailand, Brazil, Pakistan, the US, Vietnam and Japan.
Lu Zhenwang, CEO of Shanghai-based Wanqing Consultancy, said Meitu has adjusted its strategy after stripping its smartphone business and is concentrating on paid subscription services to further enhance user engagement and accelerate its monetization efforts.
Lu said the company is expanding its footprint in the business-to-business segment by offering solutions for the cosmetics industry as online cosmetics retailers have an increasing demand for standardized management services to improve operational efficiency.
link