NEW DELHI: As the government seeks to tighten the noose on e­pharmacies for conducting business in alleged violation of norms, companies said they are open to being audited by authorities and furnishing relevant details.
The founders of online pharmacies like PharmEasy, Tata 1mg and others are scheduled to meet in the Capital next week to brainstorm and prepare a set of final representation that they will be making to the health ministry, a top executive with one of the leading epharmacies told TOI on condition of anonymity.
"Regulators can conduct an audit of the companies, they can do an audit of the pharmacies we work with, of the transactions that have happened against prescriptions. We are very much willing to collaborate with the government. Digital platforms have complete track and trace and can help regulators for auditing any and every transaction on the platform. All the players are happy to extend a real time visibility process which helps regulators track every sale via online platforms," the executive said, adding that platforms are fully compliant with the laws. "Access and convenience are what people want in healthcare today and we are addressing that issue," the executive said.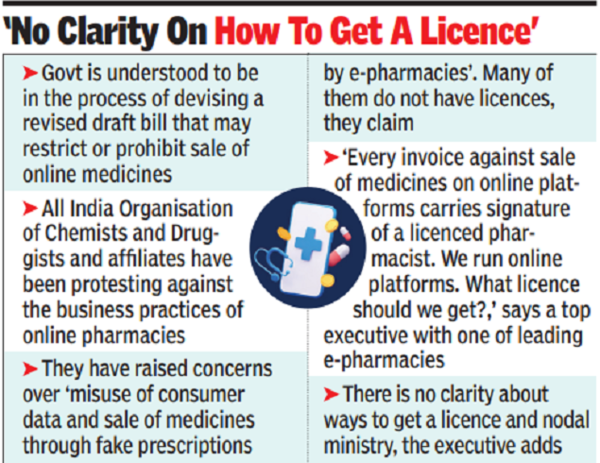 A bunch of epharmacies including Netmeds, Tata 1mg and PharmEasy were served showcause notices by the Drug Controller General of India (DCGI) last month for undertaking operations in contravention of the Drugs and Cosmetics Act, 1940. The companies, which have been trying to get an audience with the health ministry since then, has not yet been granted one.
Executives are, however, hopeful of getting one in the coming weeks. Separately, the ministry is understood to be in the process of devising a revised draft of the New Drugs, Medical Devices and Cosmetics Bill that may pave way for restricting or prohibiting sale of online medicines.
The All India Organisation of Chemists and Druggists (AIOCD) and its affiliates, comprising some 12 lakh members, have been at the forefront of mounting protests against what they describe as unfair business practices of online pharmacies. They have raised concerns over misuse of consumer data and sale of medicines through fake prescriptions by e­pharmacies. Many of them are also unlicensed, they claim.
"We want consumers' data and public health to be protected. Most of them are foreign­funded companies and there is a risk of our data being exposed," said Rampat, mentor of the New Delhi­based South Chemists & Distributors Association, which operates under the aegis of AIOCD. "E­pharmacies operate in total violation of the Drugs & Cosmetics Act, 1940. Most of them are unlicensed," added Praveen Khandelwal, secretary general of the Confederation of All India Traders (CAIT).

link